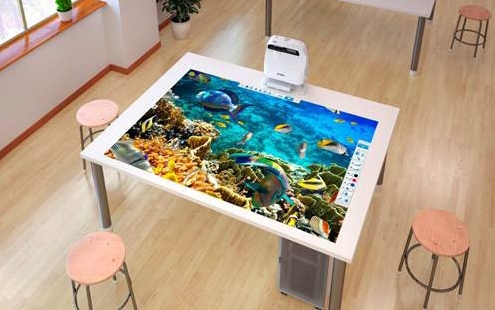 iTable Rental for Events in UK
Our unique projection system is able to project vertically downward, enabling us to transform any table top into an interactive surface. An ordinary table becomes an engaging platform for interaction and collaboration.
The new iTable has the ability to wirelessly show the content of up to 4 iPads simultaneously. This can be used as an excellent tool for small break out groups at larger Conferences or in a number of other environments.
All content shown on the iTable has the ability to be annotated.
New iTable Hire UK
Add a new and moderate projection system in your business event by utilizing iTable hire from Tablet hire the UK. It is the best way to describe your ideas through updated and moderate projector on the table which you can easily get discuss every type of issue respectively. It is the best gadget which will interact the attention of the attendees in the respective event by all means. It is the best gadget which will provide the finest view wirelessly on the table without any worry. It is the best ever tool which you can utilize for the small gathering where you can easily discuss your ideas in a perfect way.
Moreover, you can better get our assistance if you are thinking to utilize the same technology in the up-coming business event. iTable hire has an option of annotated in which you can better move and drag the slides from one place to another. Tablet Hire is a professional new iTable hire and other IT devices rental service provider in the UK for the last many years. We have a wide stock available of new iTable hire in which you can better order your desired quantity by all means.
Cost-effective Rates
No doubt, Tablet Hire UK only charge reasonable amount from the reputed clients which they can better represent their ideas and innovations publically. We will definitely provide you competitive rates in which you will never feel regret for the selection of Tablet Hire UK in this regard. You have a free choice to get compare our given quotes with anyone across the UK.
Competent Staff and Back-up Solution
Our staff is much competent and they will also provide you the best back-up solution in the event as well. You will never face disturbance in using iTable hire in the business event. Our team members will be there to support you with quality services so you can easily perform your tasks without any hesitation.
Get Hire other IT Devices
Tablet Hire UK is the leading organization which uses to provide iTable hire and other IT devices on rental to their valued clients in the UK. Furthermore, our customer support is always open to provide you useful information regarding your query. Feel free to get in touch with us related to any type of inquiry.